Aquaculture – It is known as current booming business. It is not just the source of income for poor but also contributes to national economies.
According to the statistics, in the coming years Aquaculture becomes the potential business, but most of us are still unaware about the process and how we get seed etc, We will discuss in the simple and layman terms
How do we get Seed?
The mother prawns from Florida and the prawns are hatched in hatcheries to produce seed. Seed is a fundamental pre-requisite for sustainable and successful aquaculture. A poor quality seed effects the growth, survival, prone to disease.
Shrimp Hatcheries should get certified from Marine Products Export Development Authority (MPEDA) under the provisions of the Coastal Aquaculture Authority, and once registered it is valid for 5 years. Andhra Pradesh has the Maximum number of Shrimp hatcheries and next is Tamilnadu.
How to identify a good quality seed? What is a good quality seed?
In Aquaculture terms seed which are Active, similar size, healthy in appearance results in better growth, survival and no disease. We should also consider the seed purchased from the Hatcheries are CAA (Coastal Aquaculture Authority) certified
Age should be PL 12  (PL stand for Post Larvae stage)
Size should be >11.0 mm
2 spines in PL6
3 spines in PL9.
3 well developed spines PL 10 or more
4 well developed spines PL 12 or more
In low salinity, up to 15 ppt minimum PL12 should be stocked; below 5 ppt the seed acclimatisation in hatchery has to be done slowly and properly to get better survival.
Seed price varies from one hatchery to other.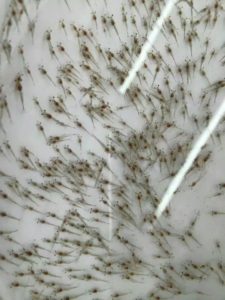 Below are the different Market prices for different quantities, and prices may differ from day to day.
Rs 30 / hundred
0.37 Paisa / Seed
0.36 paisa / Seed
Rs.18,000 / 50,000
The hatcheries should have proper infrastructure and also follow the SOP's standard operating procedure to provide high quality seed.  Water of hatcheries should be properly filtered for prevent bacteria, vector or any organisms that exist in the water. Many steps like mesh bag filters, chlorination, should be followed. Aqua Farmers should also keep in mind that not just the seed selecting but stocking is also very important and crucial. The seed should be properly packed in PP bags to get enough oxygen
A well-designed shrimp hatchery  consist of separate facilities for quarantine, acclimatisation, maturation, spawning and hatching, larval and nursery rearing, indoor and outdoor algal culture, and for the hatching.
Hazard analysis and critical control points or HACCP is a systematic preventive approach to food safety from biological, chemical, and physical hazards in production processes that can cause the finished product to be unsafe, and designs measurements to reduce these risks to a safe level. HACCP should be followed.
Hatcheries that supply best quality and following all the standards for seed production get awarded by government of India and MPEDA (Marine Product Export Development Authority)
If we have any doubts or require any clarification regarding seed for vannamei we can also get the information online from various sources like websites and apps. Here is one of the most reliable sources where Aqua Farmers get information from Aquabrahma
Seed can also be purchased online from various app and websites. High quality Seed from certified hatcheries are only available in the app with quick payment options, COD facilities, and user friendly applications from Aquadeals
Major Hatcheries of Vannamei seed are listed below
Crystal Aqua Marine Hatcheries Pvt Ltd
Source: Google search