FROM THE BREEDER TO THE FARMER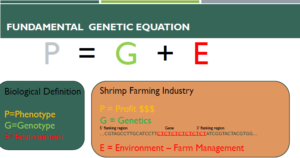 THE BREEDING PROGRAM OBJECTIVE
Thru the use genetic programs, breeders strive to continually improve the output of each pair of broodstock
By selecting individuals and families that possess the combination of genes that increase fecundity, growth rate, and survival simultaneously
Deliver these improvements in a quality product
HOW DO WE ACHIEVE THE OBJECTIVE… LET'S LOOK WHERE WE HAVE BEEN AND WHERE WE ARE GOING
Shrimp farming is a relatively recent enterprise
Multiple Species
– Monodon, Stylirostris, Vannamei
– Extensive culture systems to intensive systems
The big game changer was the introduction of Specific Pathogen Free Stocks
Out of SPF, organized breeding programs emerged and with it selective breeding
What did SPF allow the geneticist to do
– Stabilized the selection environment
– You cannot make meaningful permanent genetic change in an unstable continually changing environment
Global Production of Farmed Shrimp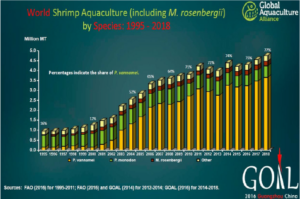 SELECTIVE BREEDING REQUIRES ADDITIVE GENETIC VARIATION – IS THE MOTHER OF GENETIC PROGRESS
Changing Allelic Frequency
Employ the same methods successfully used in other species such as fish, dairy, beef, swine and poultry
Without trait variation, it is impossible to change allelic frequencies
Trait variation needs to higher between families than within families – heritability
Intensity of selection will determine the pace of improvement
The number of traits being simultaneously improved will also determine the pace of improvement
Bell Curve – Normal Distribution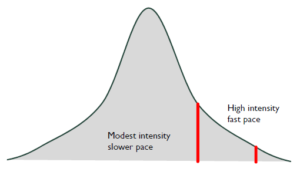 BY USING ADVANCED STATISTIC ALGORITHMS SUCH AS BLUP, GENETIC PROGRESS IN SHRIMP FARMING HAS BEEN REMARKABLE

y is the performance character being measured
X represents a contemporary environment group
Z represents individual animals
G-1 represents the genetic relationship between individuals
û is the estimated genetic value of the animal for a particular
ADDITIVE GENE THEORY IS A STAIRSTEP SYSTEM
For example, growth is a polygenic trait
Gene frequencies are changed by selecting for the alleles we desire and elimination of the alleles which we do not desire through accurate estimation of breeding value
It is a gradual process and may not be readily observed in the phenotype in a single generation
However, progress becomes very significant across many generations
The "steepness of the stairs" depends on the heritability of the trait and the intensity of selection
To date, this approach has been the backbone of genetic improvement in shrimp and we have made significant progress
Generational improvement is accumulative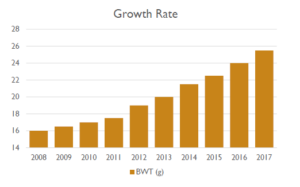 ON TO THE FUTURE AND NEW TECHNOLOGY
CRISPR – BEYOND ADDITIVE GENES AND MARKER ASSISTED SELECTION
What is CRISPR
A very precise method for manipulation of genes
Targeted genes can be manipulated or edited by removing, adding, or modifying sections of the DNA sequence
Manipulations become permanent in the genome thus are inheritable
You do need a good map
Numerous applications include disease resistance
CRISPR Cas9 System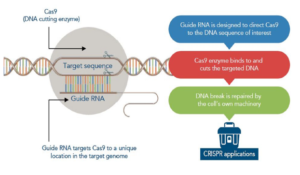 CRISPR TODAY
The future is now?
Numerous plant and animal projects are underway involving CRISPR Cas9 technology. This includes cattle (BVD) and swine (PRRSv) diseases
Plant Breeders are racing to produce a multitude of new products (banana, coffee, mushrooms) as well as cereal crops
There truly has been an explosion in CRISPR research
Mosquitoes have already been successfully transformed by gene editing to help reduce the transmission of mosquito borne disease such Zika and Dengue Fever. However, their release was blocked due to ignorance of the technology
Is CRISPR GMO?
So far the USDA is taking a hands off approach the agency said it would not regulate CRISPR-developed products because there is no foreign genetic material in the food. The FDA, meanwhile, has said it will continue to look at foods to determine if the final product is safe
Just recently, the EU stated "crops and drugs created using powerful gene-editing techniques such as CRISPR–Cas9 might not need to be regulated by the strict European Union rules that govern genetically modified organisms (GMOs)", according to a formal opinion from an advocate general in the European Court of Justice
For CRISPR to be a success, we must do a better job of educating the consumer
GENETICS AND THE ENVIRONMENT – INTERACTIONS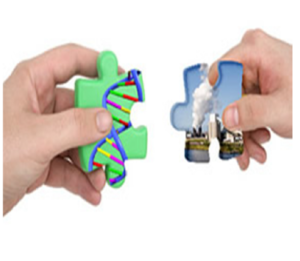 The animal will respond differently to various environmental effects
nutrition, stocking densities
The environment is constantly changing
Climate change, emerging pathogens, evolving pathogens
To achieve genetic potential, we need to understand the interaction between the environment and genetics
GENOTYPE / ENVIRONMENT INTERACTION IS A REAL PHENOMENON IN SHRIMP FARMING
Harsh environments will depress genetic potential and product performance. It also has the undesirable affect of lowering trait heritability
Families will perform differently in different environments
This "phenomenon" has led to the concept of and the conversation towards SPR and/or "designer" products for different countries and environments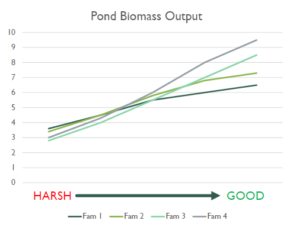 BEYOND SPR – EXAMINING PATHOGEN EXPOSURE AND RESPONSE
Its not just about survival to pathogens. How does the animal respond after exposure to pathogens so other trait potential can be expressed
For example if gut epithelial cells are permanently damaged after pathogen exposure and the animal survives, what have we gained?
We need to incorporate durable pathogen resistance into our dialogue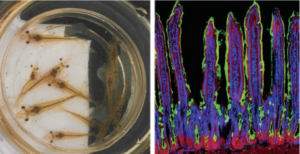 SPR – A CAUTIONARY TALE
Have we ever learned our lessons?
History has taught us an undeniable fact: a single approach to pathogen control will eventually fail
History has also taught us pathogens do not respect borders
Even genetic resistance can be overcome and hosts overwhelmed if biosecurity protocols and good husbandry are not practiced
Key to pathogen management is much broader than genetic pathogen control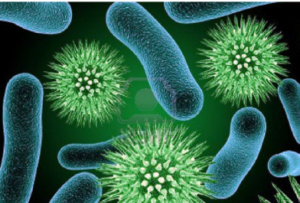 EMERGING DISEASES AND PATHOGEN EVOLUTION – CONTINUING THE CAUTIONARY TALE
Monocultures and shrimp farming
Because we employ intensive farming techniques, we will unfortunately continue to see additions to a growing list of emerging shrimp diseases
Known pathogens will also continue to evolve into potentially more virulent forms
Murphy's Laws
Conclusion # 12
Mother Nature is a bitch !!!
Wheat Rust Dilemma
Caused by a fungus (P.graminis tritici) which has led to declining crop yields for over 20 years
Plant breeders sought to overcome this pathogen by introducing resistance genes from various sources of elite stocks or wild type varieties
However, when these new SPR wheat strains were introduced with these resistant genes, new outbreaks occurred rapidly
The strong selection pressure against the pathogen caused it to evolve much in the same manner pathogens evolved to develop resistance to antibiotics
To make matter worse, wheat farmers used F2 contaminated seed and further enhanced and spread outbreaks
WORKING PARTNERSHIPS – GENETICS AND THE ENVIRONMENT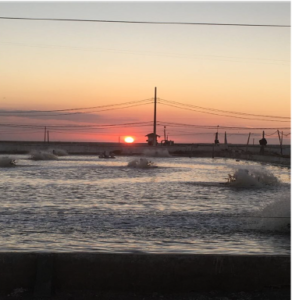 The role of genetics in the future of shrimp breeding will continue to have a tremendous influence on shrimp farming. We still have plenty of genetic variance to exploit
New technologies like CRISPR will enhance shrimp farm productivity along with continued use of traditional selection methods
Genetics alone cannot solve all the production issues because intense monoculture practices and ever changing environmental conditions that play such important role in shrimp farming (see Murphy's Law conclusion # 12)
To achieve desired performance objectives, we need to work together as an industry and support not only improved genetics but improved hatchery, farming technology and biosecurity as well
Source : Society of Aquaculture Farmers (SAP)