STATUS OF INDIAN SHRIMP AQUACULTURE
HATCHERY
FARMING
FEED MILLS
PROCESSING
MARKETS
THE FUTURE OUTLOOK
WAY FORWARD
Shrimp Hatcheries – overview
Installed capacity – >100 billion PL
Broodstock source – Imported SPF
Aquatic Quarantine Facility (AQF) – All imports through AQF operated by Government of India
Broodstock Multiplication Centre (BMC) operated by Govt. of India in technical collaboration with Oceanic Institute, USA
3 more BMC'S in the pipeline
Seed Production Details (billions)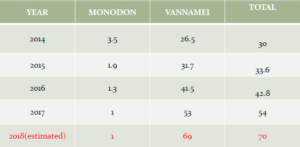 Brood-stock import details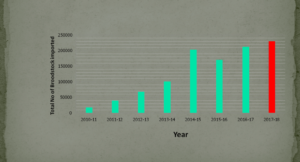 Indian Shrimp Production Vs Boord-stock imports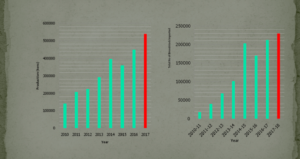 Challenges in seed production:
Zoea to Mysis to PL conversion problems – causes not fully understood – bacterial loads suspected as culprit
Live feeds in maturation causing infections (EHP) – Have to find alternates
Adequate supply of quality brood-stock
Regulatory mechanisms:
Mandatory registration with Government Authority(CAA)
Mandatory routine inspections on protocols by authorities(MPEDA)
Routine random sample testing conducted by regulatory authorities (EIA)
New trends in hatcheries:
Quick nauplii stocking of the entire hatchery to avoid conversion problems
Complete shut down and THROUGH disinfection of the entire hatchery operations after every cycle IS GIVING GOOD RESULTS
Pasteurized live feeds for maturation working very well BUT NOT ALL HATCHERIES HAVE ADOPTED
Formulated feeds for maturation being tried
Indian Shrimp Farming – Overview
153,000 HA under scientific shrimp farming
40-50,000 HA under traditional shrimp farming
Potential area 11,90,000 HA
> 95% Vannamei
Indian Shrimp Production statistics (tons)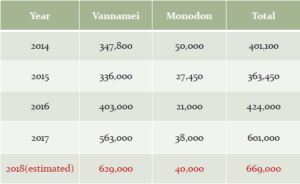 State wise Production Statistics ( tons )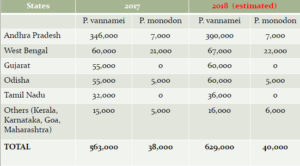 Farm Production and Productivity
Average Stocking densities – 30 per sq mt.
Average harvest sizes – 18 grams
Average final Survivals – 55%
Average production cost – US$ 4.42 / kg (HO55-60c )
Production growing because of expanding farming areas but productivity reducing.
Overall average farm production efficiency or success rate – 60%
Rising production cost serious concern
Farming profitable only because of current high prices but prices are dropping causing concern
Disease Status
WSSV major problem
EHP spreading rampantly and causing slow growth
White Faces syndrome quite wide spread causing slow growth and loose shells
Running mortality during peak summer times
EMS – NO
No other serious pathogens reported
New Trends in farming
Increased Biosecurity measures
Nurseries :
to produce juveniles
to strengthen the animal health at the early stage
to better tackle diseases, improve survivals
to reduce cost of production
to maximise utilisation of good climatic conditions
MEASURES to overcome EHP and whitefaces Syndrome – pond bottom liming, seed quality checks, rigorous disinfection of source waters
Feed Production-status and challenges
Installed capacity – over 2 Million tons.
Production crossed 1 million tons in 2017
Every year 1 or 2 new major feed mills being set up
Increasing input cost serious concern
Farmers facing increased FCR's and overall increased feed cost despite much competition among feed millers
Processing Factories – details
344 processing factories EU approved (source MPEDA)
Seafood processing units in India are approved by the Export Inspection Council of India.
Approval type
Units eligible to export to European Union
Units eligible to export to countries other than European Union.
MARKETS : Frozen Shrimp exports from India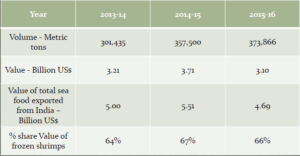 Market – Highlights
India is the TOP shrimp supplier to The USA – the largest consumer of shrimps in the world – for 5 years in a row!

Quality Control measures for exports
National Residue Control Plan (NRCP) – a statutory requirement for exporting to EU countries
Pre-harvest testing
Health certificate by EIA
Industry has adopted modern methods of handling, processing besides adequate quality control measures to improve the quality of sea food.
Mandatory HACCP compliance for all processing plants
Export rejection percentage is very low despite exports at all time high
Issues in Exports
Food safety issues, although detected in only 0.22% of exported shrimps, is a serious concern for exporters as they face the brunt of the rejections
More stringent inspections by importers particularly EU – 50% testing
Declining demand for large sizes is unfortunate, particularly for small and marginal farmers who mostly prefer to produce big size animals
Future outlook
Indian Shrimp aquaculture poised like a cat on the wall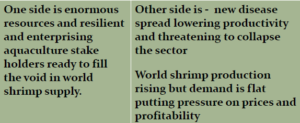 India can sustain its record breaking run if it manages to improve productivity, overcome threats form existing and emerging pathogens and also take proactive measures to ensure 100% food safety compliance
Good News
Government is proactively taking steps
To sustain the production and growth
To ensure 100% compliance of food safety
To control spread of diseases
Stakeholders constantly evolving up to produce and export top quality shrimps
New Records in 2018
India Poised to touch the 700,000 tons production mark
Indian Production catching up with China and expected to surpass China's production
India will become the largest producer and continue to be the largest exporter of Vannamei
Production in Andhra Pradesh State alone to cross 400,000 tons
Seed production to hit all time high of 70 billion
Need of the Hour
Focus on improving productivity to ensure profitability and sustainability mostly disease control to improve survivals and growth
A Comprehensive QC program to proactively address food safety issues and traceability in aquacultured shrimps
Accredited Facilities to test pathogens and residues in all inputs for all stakeholders
Certified inputs for all stake holders in the sector
Sustained supply of quality brood-stock – BMC, AQF, NBC
Solutions to overcome EHP and whitefaces disease
Disease resistant seeds, particularly for small and marginal farmers doing traditional farming
Focus on domestic market
Focus on selective breeding programs for Native species
Most of all, a commitment form all stakeholders towards the sustainability of the sector – and what better way than to join together under one umbrella as
Confederation of Indian Shrimp Aquaculture
Source: Society of Aquaculture Professionals (SAP)