In what must come as a good news to the fish farmers and fishermen, the Central Marine Fisheries Research Institute (CMFRI) has come up with a new technology that will help them fetch better income even without depending on middlemen. The CMFRI has developed a multivendor e-commerce website and mobile app to help fish farmers and fishermen selling their farmed fish and marine catch directly to the customers online.
The website and mobile app named 'marinefishsales' was developed under the National Innovations on Climate Resilient Agriculture (NICRA) project of the CMFRI as part of improving income of the coastal community who are struggling hard to stabilize their income due to fishery and climate related issues.
The portal is an interface of multi-vendors and consumers with CMFRI performing the administrative role between them. Fishermen and fish farmers who want to sell their catch and fish online may form Self- Help Groups (SHGs) and register with the platform. CMFRI will monitor the vendor profiles, order status and sales. Various fishermen self-help groups can register as vendors (fishers and farmers) based on their products to sale and update their stock availability time to time which shall be displayed in the website and the app. Customers can place their order after choosing the fish, either cleaned or raw, from respective farmers or fishermen groups. At present payment is available only on cash-on-delivery mode.
The platform will enable the fisher self-help groups in Ernakulum district to sell their products at the first phase. In the next phase, the service will be extended to the other parts of the country in accordance with the success of the initiative. Registered fishermen and fish farmers who wish to be part of this initiative can form self-help groups and register as vendors on the website www.marinefishsales. com or contact the NICRA team of the CMFRI at 9447719581. The mobile app (marinefishsales) can be downloaded from the Google Play Store.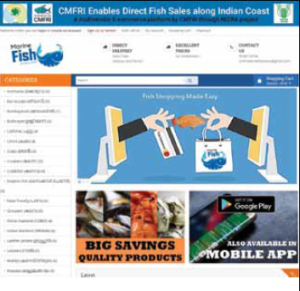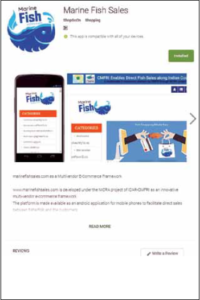 Source: Aquaculture Spectrum