HDPE High density polythene is the most widely used geomembrane in the world and is used more commonly internationally due to its availability and relatively inexpensive material cost. HDPE is an excellent product for large applications that require UV and Ozone resistance, chemical resistance or high-quality installations.
HDPE liners helps in Securing water containment as geomembranes  have extremely low permeability and are highly resistant to UV rays and elevated temperatures, water quality control as they don't have any additives or chemicals, which can contaminate water, prevent occurrence of disease among aquaculture stock, by quickly being cleaned, disinfected and reused to optimize harvest seasons.
Other benefits of HDPE liners preventing loss of dissolved gas, helping to sustain water quality, improving working environment, lower maintenance cost, reducing disease risk, managing waste removal, ease harvesting, also increasing turnaround time between corps which helps to generate revenue and increase the production of the species.
Salient features of HDPE liners
Long life
Easy repair
Easy installation
Low maintenance costs
Inexpensive
UV stable material
In the recent times water resource has become a major problem and then getting protecting the water from contamination and preserving has become easy and affordable for aqua farmers with these HDPE liners. In these liners a high quality plastic is used which were tested on various parameters for quality checking. They are also specifically designed to avoid punctures and tears to avoid water deterioration. They are available in different sizes and thickness and can be choosen. However if aqua farmers have any specific requirement these liners can also be custom made and designed as per the requirements.
Standard thickness, spark testing, warranty and wrinkle free product should also be checked while purchasing liners. However for any queries regarding purchasing of HDPE liners we have online support available from farmers choice preferred app Aquabrahma where farmers questions can be answered by expert technicians and we have a ecommerce site to purchase aqua products that is Aquadeals – One stop shop for all aqua needs.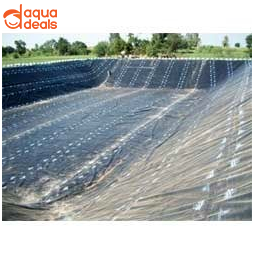 Aqua farmers should purchase liners which are quality test and approved and get them installed only by a qualified professional. Before installing these HDPE liners site evaluation must be done and select the right fit for the designed system of Aqua culture, then determine the liner size, manpower and equipment needed to install, position and placement of the liner leads to a successful and smooth installation of HDPE liners.
Source: Aquadeals