Hi! Greetings and Best wishes to all for a very successful first crop!
Following the recap that I outlined in the Inaugural issue of Aquaculture Spectrum entitled, "The advent of vannamei in India", here is an update on the Shrimp Aquaculture sector in the country for the months of January and February 2018.
On stocking and production:
Seed stocking is slowly gaining momentum in Andhra Pradesh. Outbreaks of WSSV are regularly being reported from all along the Andhra coast in batches stocked during the months of December 2017 and January 2018. In  most areas, pond preparation and water filling is underway. With temperatures rising to comfortable levels, stocking is likely to pick up within the coming weeks. Batches that had been stocked during Oct-Nov 2017 and survived the winter without disease have attained marketable sizes and are under harvest.
Farms along Gujarat and West Bengal commenced stocking from the first week of February. However, stocking was slow as farmers awaited higher water temperatures. Acute shortage of bleaching powder in Gujarat also added to the delayed stocking in the area. Manufactures have hiked up the prices owing to the supply shortage. Expensive 70% active chlorine granules are being pushed into the market against the regular 33% bleaching powder normally used by farmers. There is a surge in farming area along Gujarat and West Bengal in the current year than the previous one, which is likely to reflect in increased demand for vannamei seed.
While several hatcheries had commenced seed production and supply from January, most others are entering into peak production now to meet the high demand for the first crop of 2018. Poor nauplii production as well as conversion issues were widely reported in January and February. It was also reported that the size of broodstock received during the last few months has been small with higher transit and hatchery mortalities when compared to the earlier period. It could be worthwhile to correlate this with the problems associated with nauplii production from these batches. Seed prices shot up to 60- 65 paise/seed during this period. Though the demand for seed is likely to escalate in the forthcoming weeks, good production in the hatcheries following the onset of summer can stabilize seed prices to around 40 paise per seed.
The state of Odisha accelerated in shrimp production and crossed the 30,000 ton mark in farmed shrimps and surpassed the production of Tamil Nadu in the process. With more area coming under shrimp farming in the state, production is expected to grow further. New farmers in Maharashtra, Goa and some parts in Karnataka are also venturing into vannamei farming. In a recent development, vannamei farming is picking up in the states of Haryana and Punjab where some pockets are blessed with abundant availability of underground saline water of around 10 ppt. The first few farming trials have been fairly successful and the encouraging results are luring more farmers to the fold.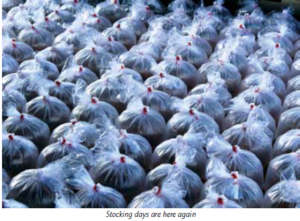 On diseases:
White Faeces Syndrome (WFS) and Running mortality, that was rampant till around September 2017 was considerably less prevalent during winter when feeding was low. However, it is gradually re-emerging from the end of February, though not as very severe infections. This however is an indication on what could be in store for the farming sector during the coming months. As mentioned earlier, WSSV outbreaks in batches stocked in Dec 2017-Jan 2018 were reported during the month of January and February 2018.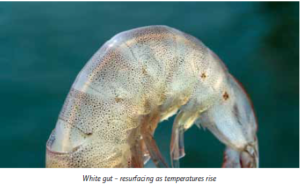 On the revenue:
Shrimp prices are stable as of now. Experts, who spoke during Aqua India 2018, suggested that prices for smaller size shrimps are likely to hold and therefore success lies in being able to optimize production so as to cater to the market. In an attempt to achieve 40 and 30 counts by stocking at low densities of around 25 pcs/m2, farmers resort to delayed harvest to achieve these sizes even if the ponds are affected by WFS or showing slow growth. Very often, farmers end up getting very poor survivals and high FCR. Quick harvesting decisions assist in profit making/considerably reducing the extent of loss. I have listed out some of the reasons for occurrence and spread of Shrimp diseases in hatcheries and farms and the Best Management Practices (BMP)s to be followed to prevent them. Hope this would be of use to you.
Reasons for the occurrence and spread of diseases
Use of inferior broodstock in hatcheries and unhealthy seeds in farms
Use of unscreened live maturation feeds for broodstock that could be carriers of the microsporidianEnterocytozoon Hepatopenaei (EHP)
 Inadequate disinfection and biosecurity procedures
 Non-compliance of SOPs/ BAPs/GMPs in hatcheries and farms
Tendency to drain ponds that reported extreme slow growth and possibly infected with EHP directly into water bodies without any disinfection.
Risk factors for diseases
Poor pond preparation and inadequate dry-out period between crops
Stocking of infected/ unscreened seeds
Stocking densities that do not match with the available infrastructure
Unwarranted use of chemicals and antibiotics and excessive use of probiotics
 Inconsistent bloom in the first month, low water pH (7.4 to 7.6), and low alkalinity in freshly stocked ponds
Over feeding and insufficient aeration
Climatic fluctuations and stress
BMPs for sustainable production in hatcheries
Biosecurity to be given top priority in hatcheries that use Specific Pathogen Free (SPF) Broodstock.
Live feeds (polychaetes, squids, oysters etc.,) used for the broodstock must be screened and frozen for a minimum of 2 days before feeding
Bacterial plaque on shrimp eggs could be due to vibrio infection. Therefore proper spawner removal and egg washing to be strictly adhered
Proper conditioning of the reservoir water to be done. Total Plate Count (TPC) of the rearing water and algae to be checked before stocking the nauplli
Stocking of Nauplli in rearing tanks to be limited to 1.0 to 1.2 lakh/ton of water based on available facilities
 Artemia cysts to be decapsulated before use
Non antimicrobial therapy – Judicious usage of pre-biotics, probiotics, bacterial biofloc, immunostimulants, vitamins, minerals etc. will improve the survival rates and growth performance
Use of screened freeze dried (lyophilized) artemia, artemia biomass, cyclopeeze and krill biomass to rear the PL will enhance the quality of PL produced and reduces the risk of EHP.
lComplete shutdown with sufficient disinfection period, to be followed between batches of seed production in hatcheries. Unit by unit shutdown to be avoided.
Suggested BMPs for grow-out farms
 A minimum gap or dry-out period of 1 month to be given between crops. In the event of a failure of the previous crop, the gap should be up to 2 months, and in case of failure of previous two successive crops, a crop holiday is suggested.
Pond bottom of the affected farm must be bone dried, sufficiently ploughed and the soil properly oxidized. If slow growth was witnessed in the previous crop, raking out a minimum of 2 inches of the surface soil from the affected pond would be advisable. Sufficient gap between crops and preparation as above assists in soil re-conditioning and fewer/ no recurrence of running mortality observed in such ponds.
Bund repair and compacting has to be done atleast once a year, preferably during summer to avoid seepage and cross contamination between the ponds.
Maintaining a proper slope and use of central drain systems, shrimp toilets etc. are effective tools for sludge management. Quick removal of feed waste, faeces and shrimp moults keeps the pond environment safe and healthy. Periodic raking (chain dragging) prevents biofilm
formation and keeps the pond bottom clean.
It is essential that a good bloom, rich in zooplankton population to be developed prior to stocking. This can be achieved through periodic application of organic manure, fermented rice bran and dolomite. Such ponds usually report fewer incidences of disease. Ponds with low pH can be treated with Sodium hydroxide at a dosage of 1 kg/acre in 1 meter depth.
Application of good probiotic immediately after de-chlorination, followed by regular doses is effective in preventing vibriosis.
Health check and PCR screening of seeds for diseases such EHP, Infectious Hypodermal Haematopoetic Necrotic Virus (IHHNV) and White Spot Syndrome Virus (WSSV) prior to stocking is essential.
Nursery rearing of seeds prior to stocking in grow-out is proven to provide a compensatory growth surge in the grow-out ponds which helps in shortening of culture period. Nursery reared seeds have better survival and better resistance to diseases. Nursey rearing also helps in accurate estimation of population, thereby helping in accurate feeding and obtaining better FCR.
Optimization of stocking density has to be done based on the infrastructure facilities available at the farm. Stocking density of < 1.0 – 1.2 lakhs/acre (25 – 30 pcs/m2) seems to provide better performance in earthen ponds and more safe against slow growth, White Gut, White faeces syndrome and loose shell.
Use of functional treatment feeds from the day of stocking in ponds, are known to build better immunity and reduce stress levels in juvenile shrimp. Similarly, usage of feed with higher protein content and better digestibility, especially during the first month of culture seems to provide better growth and overall performance
Quality feed probiotics keeps the shrimp gut acidic and provides protection against all Vibrio and other infections.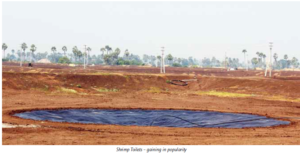 Black tiger making a strong comeback
Increasing difficulty in farming vannamei has forced farmers in several regions, particularly in some pockets of West Bengal, Gujarat as well as in Krishna district of Andhra Pradesh to revert back to farming of Black Tiger Shrimp Penaeus monodon. Encouraging results obtained during 2017 by a majority of Tiger Shrimp farmers has lured several new farmers this year. Farmers in Nizampatnam (Guntur Dt., Andhra Pradesh) stocked around 20-32 thousand Tiger Shrimp PL (@ 5 – 8 pcs/ m2) and obtained 20C shrimp without encountering any serious production issues. These sizes also fetched around Rs. 700/Kg during harvest. It is estimated that close to 3500 Ha area would come under Tiger Shrimp farming in AndhraPradesh alone for the first crop this year.
Demand for Tiger Shrimp seed continues to be good. However, only a handful of hatcheries, mostly in the Chennai – Pondicherry belt cater to these requirements. Inspite of the growing demand, not many hatcheries are willing to go through the process of broodstock collection from the wild, screening them/nauplii for WSSV and then producing seeds without prebookings. It is also reported by some of these hatcheries that the incidences of Tiger Shrimp broodstock testing positive for WSSV is by far fewer that the figures reported during the pre-vannamei period.
Market for Black Tiger Shrimp, particularly for larger sizes is steady and likely to hold. A concerted effort has to be made by the farmers to target this niche market. Growing Tiger shrimps to 50 gms size requires atleast 5 months. Stocking during the end of February to late March, when temperatures generally pick up, would be the ideal season for Andhra Pradesh. Least incidences of WSSV and maximum success in farming, is usually recorded during the summer crop. Farms could form clubs/ societies and request the hatcheries in advance to supply healthy, screened tiger shrimp seeds during the desired stocking period and in the required quantities so that there is no shortage of the seeds.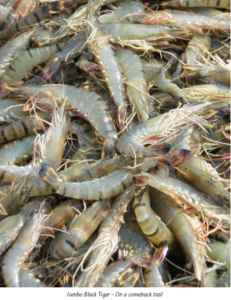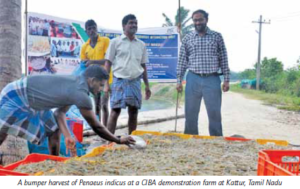 The success witnessed during some of the demonstrations undertaken by the Central Institute of Brackishwater Aquaculture (CIBA) has also encouraged some of the farmers to resort to farming of the Indian White Shrimp, Penaeus indicus.
This pulse from the farming community seems to be a prelude to the species diversified shrimp culture which we need to take forward for the sustainability of the sector of the country. It is high time that the Indian shrimp sector invest heavily on Selective Breeding programmes for all three species of Shrimps – Black Tiger, Indian White and the Pacific White shrimp to ensure the sustainability of the Indian Shrimp Aquaculture sector.
Source: Aquaculture Spectrum