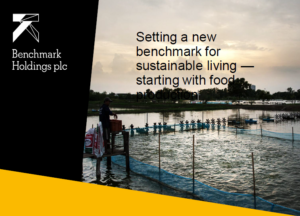 BENCHMARK'S AQUACULTURE PLATFORM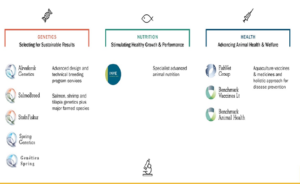 BENCHMARK BREEDING PROGRAM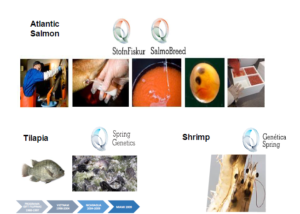 GENETICS – EXTERNAL CLIENTS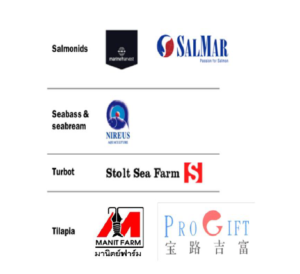 FASTEST GROWING FOOD SECTOR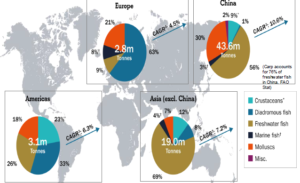 GENETIC GAINS

Nile tilapia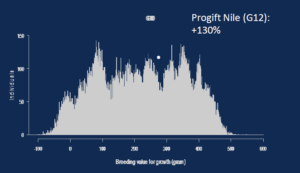 INDUSTRY STANDARD: FAMILY BASED (SIB) SELECTION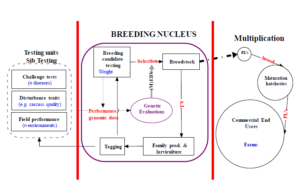 TARGET TRAITS FOR IMPROVEMENT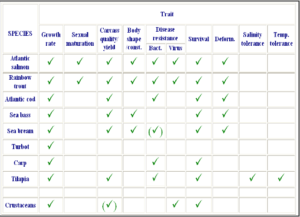 UPTAKE ADVANCED AQUACULTURE GENETICS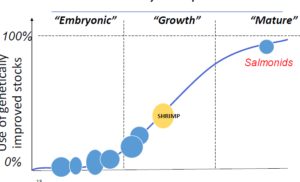 BREEDING PROGRAMS COLOMBIA
Atlantic breeding program
1997, combined family and within-family selection Resistance to TSV, general pond survival and growth
Pacific breeding program
2008, mass selection under restricted inbreeding Resistance to WSSV and general pond survival
2016: Programs, facilities and key personnel acquired by Benchmark Operated under brand Genetica Spring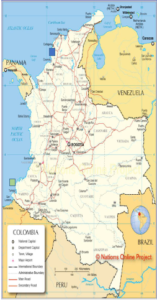 BENCHMARK COMMITMENT
Under Benchmark ownership these programs are further advanced using the latest available technologies offered by molecular genetics and genomics, and efficiently adapted to targeted production systems and environments
BREEDING PROGRAMS COLOMBIA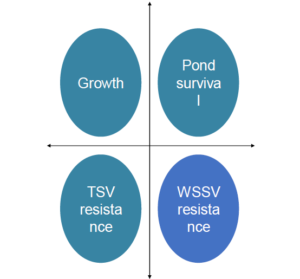 DIVERSE GENETIC BASE
"GENE SUPERMARKET"
Base materials from 8 countries:
• Colombia
• Costa Rica
• Ecuador
• Hawaii
• Panama
• Peru
• El Salvador
• Venezuela
MILESTONES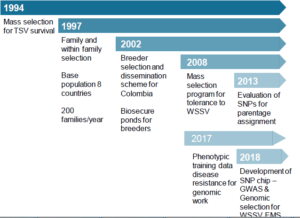 TAURA SYNDROME VIRUS (TSV)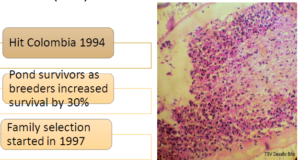 TSV- RESPONDED RAPIDLY TO SELECTION FOR INCREASED RESISTANCE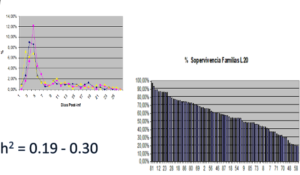 WSSV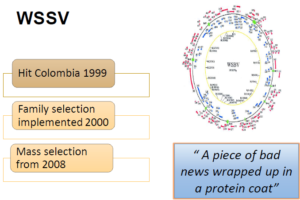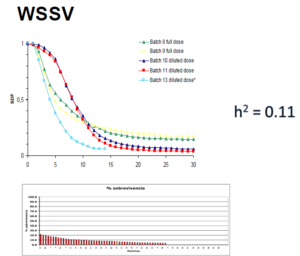 Challenge test, Bogoto Colombia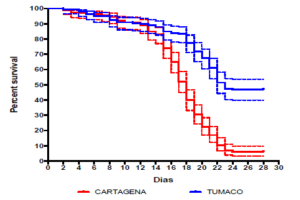 Challenge test, Bogoto Colombia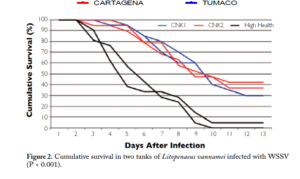 TRADE OFF GROWTH VS RESIST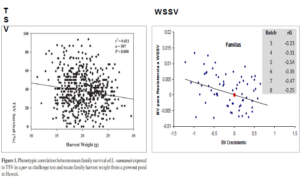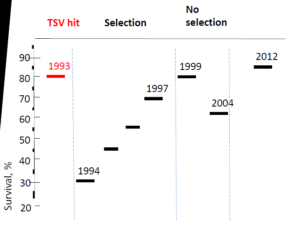 If resistance is negatively correlated with growth and reproductive capacity it will be rapidly lost from the breeding nucleus unless continuous selection pressure is maintained for resistance.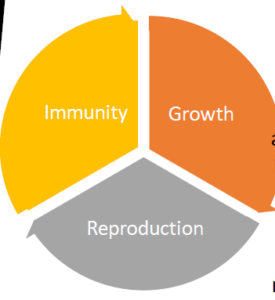 ROBUST – SPR POPULATIONS
Currently the development of SPR populations relies on some level of infection with the causal agent or pathogen in question.
Family based selection are widely implemented as choice protocol to increase innate resistance to specific pathogens aquaculture species
Exposure and reaction of close relatives (normally close siblings) to pathogens, obviates infection of the breeding nucleus.
Breeders are selected on the basis of the performance of close relatives.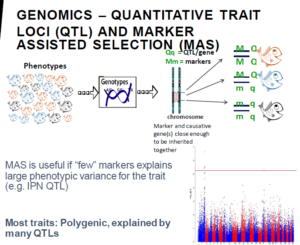 GENOMIC SELECTION (STATE OF THE ART)

Increased genetic gains
• Utilize the full genetic variance  increased selection differentials
• Increased accuracy of genetic predictors (EBV)
• Reduced accumulation of inbreeding
SHRIMP FIT FOR THEIR ENVIRONMENT
The Shrimp sector will continue to be repeatedly exposed to new epidemics while depending on broodstock poorly adapted to local conditions
To break this vicious cycle: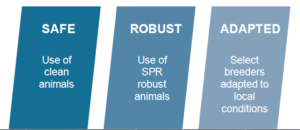 GENOTYPE X ENVIRONMENT INTERACTION
Genotype x Environment interaction is relevant in L.vannamei
Most of commercial available breeders have not been selected for local conditions and hence are not well adapted.
Target environments are highly diverse Pathogens and loads are variable
Does one size fit all ?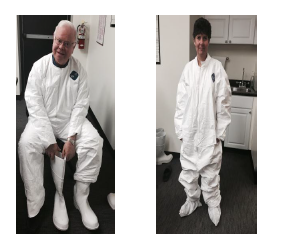 GENETICA SPRING LINES UNDER DEVELOPMENT
1)Resistant Lines:
WSSV – Genomic Selection
AHPND – Genomic Selection
General survival
2) Robust Growth and combined lines
3) Maturation: No ablation
Harnessing biological control to drive sustainability and performance
Source: Society of Aquaculture Professionals (SAP)